Welcome to the Department of

Digital Media


at West Valley College.


We excel at training professionally minded students for careers, and transferring those who are interested in pursuing bachelor degree programs.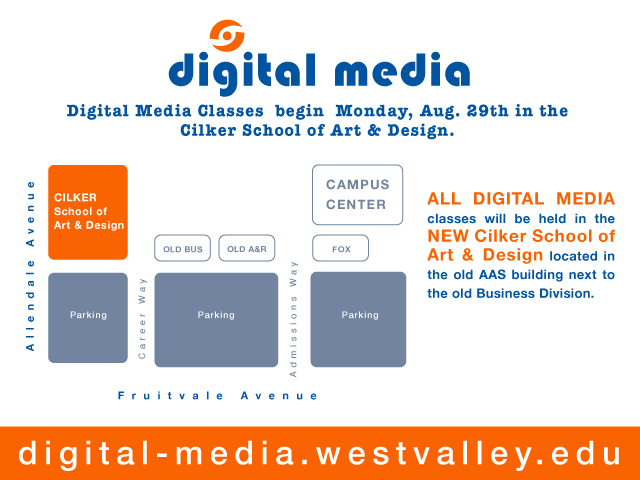 We connect with our students on a beautiful 143-acre Saratoga campus in the foothills of the Santa Cruz Mountains, located at the southwest border of Silicon Valley. Here you can expand your mind, develop professional skills, and contemplate ideas that can advance your career. Our graduates are a talented and diverse group who enjoy networking with each other and even collaborate professionally long after they finish their studies.
We continually revise and implement new classes and programs so that you have relevant and sought after skills upon graduating. The economy in Silicon Valley is currently very healthy, and you can take advantage of our program to set you on a promising career track.
Our web design program integrates user experience with designing for mobile platforms. Mobile technology requires web designers to adapt interface solutions for tablet, phones, and emerging wearable technologies. We are constantly adapting our programs to the rapidly changing technologies that influence how we communicate, conduct business, and thrive.
Web professionals analyze user needs to implement Web site content, graphics, performance, and capacity. A Web professional may also integrate Web sites with other computer applications. Web designers are experts in converting written, graphic, audio, and video components to compatible Web formats by using software designed to facilitate the creation of Web and multimedia content. Web designers also work with user experience experts and assist in tailoring experiences aimed at marketing and selling products online. Read more at:
http://www.bls.gov/oes/current/oes151134.htm
Upon registering, choose one of our current programs:
An Associate Degree in Web Design & Production (Design Emphasis), or a Certificate of Achievement in Digital Publishing (Graphic Design). When you enroll in either of these programs, the courses will count towards the new and revised programs below:
Our new programs include: a certificate and AA Degree in Web & Mobile Design; a certificate in Graphic Design, and a certificate in Marketing/Digital Communications.
Please contact a faculty member to discuss which program is right for you. We will assist in helping you develop an educational plan so you can get started on the right track today! 2015/2016 West Valley College Catalogue